Rufname: Siri
Titel und Erfolge:
Schwedischer Champion
Deutscher Champion
VDH Champion
Windspiel JAS 1993 beste Hündin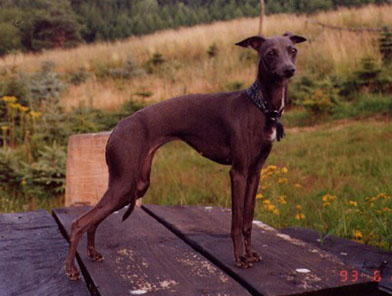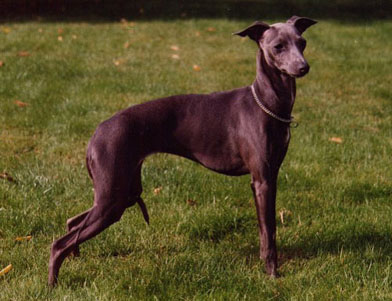 Dob:    22 oct 1991                                                                       Pedigree
Sex:    female
Size:    38,0 cm
Bite:    full, correct scissor bite
Health: Patella free
Litters: Dark Legend's A-litter 2,0, B-litter 2,1, C-litter 1,2, D-litter 2,1, F-litter 3,0
—english text on page bottom—
Siri war meine Stammhündin auf der ich meine Zucht aufgebaut habe,  sie  war eine langersehnte Traumhündin.  Auf sie musste ich zwei Jahre lang warten, aber die Mühe hat sich sehr gelohnt.
Von Anfang an war klar, dass ich eine Hündin für Zucht und Austellung haben möchte. Aber man braucht viel Glück und einen guten Züchter um so eine exzellente und harmonisch gebaute Hündin mit so einem hervorragendem Temperament wie Siri zu bekommen,  hiermit danke ich  Hr. Ronny Widlund für diese schöne Augenweide! Siri ist in Schweden geboren, aber ihr Vater war ein Süd-Afrikaner und ihre Mutter stammte aus Norwegen. Sie hatte also auch eine internationale und sehr interessante Ahnentafel.
Ihre grössten Erfolge stecken natürlich in ihren Nachkommen. Sie wurde Mutter von fünf Würfen A, B, C, D und F mit insgesamt 14 Welpen. Davon befindet sich noch zwei Töchter und zwei Söhne  im Dark Legend´s Besitz und führen ihre vortrefflichen Eigenschaften weiter. Sechs ihrer Nachkommen wurden deutscher Champion.
Ihre Kinder haben sich alle durch ganz tolles Temperament ausgezeichnet, aber auch mit Schönheit und Leistung geglänzt!Leider ist Siri nur allzu früh mit 9 Jahren verstorben, sie ist aus einer "gelungenen" Operation nicht mehr aufgewacht!
Möge ihr Erbe weiterleben und noch viel Freude bereiten!
Ch. Winter Moons String of Pearls
Siri was the dog, I started breeding with. She really was a dream of a dog. I had to wait two years to get her, but it was worth it.
I knew, right from the start, that I wanted to have a dog I could use to breed and also go to shows with. This kind of dog, I was longing for, is not easily found. You need a lot of luck and a good breeder in order to get such an excellent  harmonically build dog with very good temperament, just as Siri used to be. I would like to thank Mr. Ronny Widlund for this beautiful dog.
Siri was born in Sweden, but her father was from South Africa and her mother was Norwegian. You can see that her ancestors were international and interesting.
Her greatest successes are to be seen in her descendants. She was mother of five litters-A, B, C, D and F- with a total of 14 puppies. From these descendants two daughters and two sons are still owned by Dark Legend's. They have inherited Siri's excellent qualities.
Her offspring inherited Siri's good temperament, as well as beauty and success.
It is too sad that she died too early, at the age of nine. She never woke up after a "successful" operation.
May her heritage live on and deliver all of us a lot of pleasure.