Rufname: Scilla
Titel und Erfolge:
Deutscher Champion
Prädikatskörung S & L
Landessieger Nordbayern 1997
Windspiel JAS BOB 1998
Landessieger Hessen-Thüringen 1998
Landessieger Niedersachsen-Sachsen-Anhalt 1998
Landessieger Bayern 2000
Hessen-Thüringen Cup 2001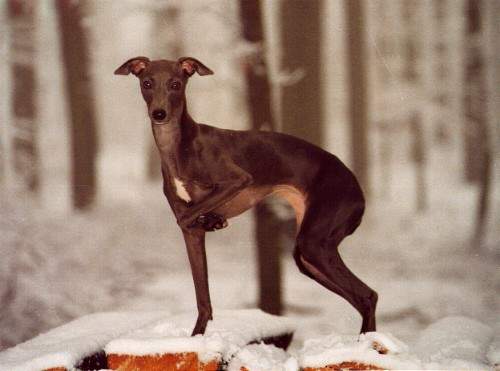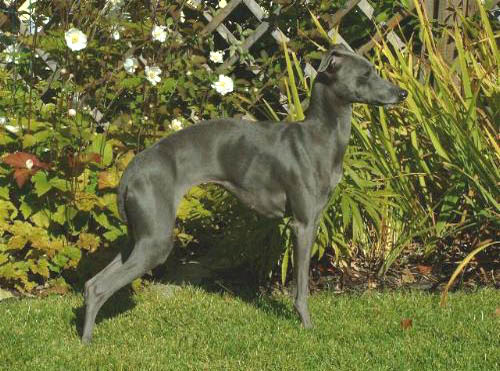 Dob:    14 may 1996                                                                    Pedigree
Sex:    female
Size:    37,8 cm
Bite:    full, correct scissor bite
Health: Patella free, certified 2006
Litters: E-litter 2,2, J-litter 0,1, L-litter 0,2, O-litter 1,1
—english text on page bottom—
Scilla war sehr lange meine  Alfa-Hündin, sie zeichnet sich besonders durch ihr starkes Charisma und Intelligenz aus. Wie der Name sagt ist sie Siris erstgeborene Tochter (Binit Siri = Tochter von Siri. arab.). Sie ist zwar ein bisschen faul,  beherrschte aber lange Zeit locker ihre Untertanen.
Scilla ist Mutter von vier Würfen geworden:mit insgesamt 9 Kindern. Nach vier Würfen ist Scilla mit  8 Jahren etwas fauler geworden und hat sich als Alfa-Hündin zurückgezogen – eine Lücke die bis jetzt (2007) kein anderer Hund aus unserem Rudel richtig schließen konnte. 
Ch. Dark Legend's Binit Siri
Scilla was my  alpha dog for a long time. She is very charismatic and intelligent. Just as her name tells, she is Siri's first born daughter (Binit Siri= Siri's daughter, Arab). She retired from her alpha dog presence at the age of about 8  years and has left a little lack of leadership in the pack, that no other dog was able to fill in yet.
 Titles:
 German Champion
 LS Nordbayern 1997  (state champion in northern Bavaria 1997
 LS Hessen-Tühringen 1998 (state champion in Hesse-Thuringia 1998
 LS Niedersachsen-Sachsen-Anhalt 1998 (state champion in Lower Saxony-   Saxony-Anhalt 1998)
 LS Baden-Württenberg 1998  (state champion in Baden-Würtemberg 1998)
 LS Bayern 2000  (state champion in Bavaria 2000)
 Hesse- Thuringia-Cup 2001
 Italian Greyhound-JAS BOB 1998