Rufname:    Sissi
Erfolge:
-Fröhliches und lustiges Temperament trotz ihrer Behinderung.
-Ausgezeichnete Mutter und Erzieherin, sowohl eigene und "Fremdwelpen"
-Frauchens persönlicher Bodyguard. Alle unerwünschte männliche Hände bleiben weg, wenn Frauchen es so wünscht. (Kampfgewicht 3 kg, Schnelligkeit wie eine Mamba und Zähne wie ein Piranya)
-1 CAC trotz Behinderung! Eine persönliche Danke an dieser Stelle zu Frau Schultze, die Mut und Verstand hat, es zu verteilen trotz der Schwierigkeit Sissi´s Gangwerk zu beurteilen.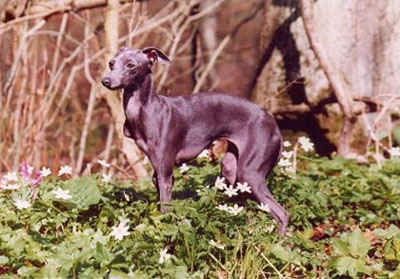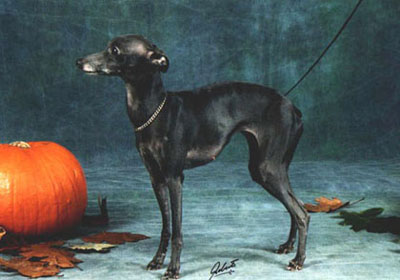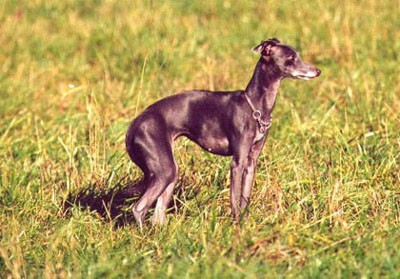 Dob:    22 may 1997                                                                      Pedigree
Sex:    female
Size:    34 cm
Bite:    full, correct scissor bite
Health: Patella free, certified 2006
Litters: G-Litter 0,2, I-litter 0,1, K-litter 0,2, N-litter 0,2
—english text on page bottom—
Sissi, meine kleine elegante feine Lady (34 cm groß), konnte nie mit stolzen Titeln oder Rennerfolgen glänzen. Nicht weil sie nicht schön oder gut genug ist. Im Gegenteil!! Sie ist eine vorzügliche, temperamentvolle Edeldame, hat Kampfgeist für zwei und wäre mit Sicherheit auch ein Teufel auf der Rennbahn gewesen! Sie ist außerordentlich instinktsicher, speziell bei der Welpenaufzucht und hätte mit Sicherheit auch die Richter bezaubern können, wenn sie sich nicht mit 8 Monaten das rechte Vorderbein gebrochen hätte. Der Tierarzt von damals flickte sie zusammen und alles verheilte sehr gut, bis wir die Platte rausholten. Eine knappe Woche später sprang Sissi an mir hoch und brach sich das Bein erneut. Um es kurz zu machen, ist das Bein nach zwei Brüchen und einer Korrektur total schief zusammen gewachsen und von der steifen Bandage war ihr Ellenbogen wund bis auf den Knochen!
Ein Rat:Wenn Sie ein Beinbruch bei Windspielen haben, überlegen Sie sich sehr gut wohin Sie ihren Liebling bringen!!! Die meisten Tierärzte haben für diese speziellen Brüche viel zu wenig Erfahrung; lassen sie nicht zu, daß Ihr Windspiel ein "Versuchskaninchen" wird!!! Empfehlen kann ich z.B.:die Tierärztliche Klinik am Kaiserberg/Duisburg. Sie sind Knochenspezialisten und haben Erfahrung mit Windspielen. Aber trotz Sissi's Behinderung hat sie sehr schöne Bewertungen bekommen und sogar ein CAC gewonnen, wobei ich sie insgesamt nur selten ausgestellt habe.
Hier ist der Richterbericht von Frau Quaritsch-Fricke:
" 2 Jahre, Schiefer, volle Schere, Canini Korrekt, ganz wunderschöne Rassever-treterin,die dem Idealstandard sehr nahe kommt und anatomisch nahezu perfekt ist, besonders hervorzuheben ist die sehr edle trockene Gesamtanatomie, sowie der wunderschöne Kopf, leider ist diese ausnehmend schöne Hündin durch Unfall am rechten Vorderlauf in der Bewegung stark behindert, sie wirft diesen Lauf seitlich nach vorne während die Gänge und das Seitengangwerk abgesehen davon rassetypisch sind, dennoch fehlt für die Spitzenbewertung die Harmonie des Gangwerk, so das nur ein V1 ohne Anwartschaft vergeben werden kann. Die Hündin wäre ohne Behinderung Beste der Rasse."
Dark Legend`s China In Your Hand
 Sissi is my small and elegant Lady (34 cm big). Even though she is fast and beautiful, she will never win any titles, or races. She is a great and lively gentlewoman, has a fighting spirit that would serve two dogs and would definitely run a race as fast as the wind. Her instincts are developed extraordinarily well, especially when it comes to raising puppies. She would definitely have won every judge's heart, if she had not broken her right foreleg, at the age of eight months. The pet doctor fixed it, and everything healed very well, so that we could take the plate out of the leg. About a week later, Sissi jumped up, and broke the leg again. So, after having broken the leg twice and straightening it once, the leg has not grown together straight and the stiff bandage made her elbow sore.
 My advice:
If one of your Italian Greyhounds ever has a broken leg, do chose the veterinarian well. Most of the veterinaries do not have enough experience with such a special kind of fracture. Do not let them use your dog as a test object. I can especially recommend the veterinarian clinic "Klinik am Kaiserberg" in Duisburg, Germany. They are specialized on bones and have experience with Italian Greyhounds.
 Even though she has this handicap, Sissi was given very good valuations and even won one CAC. I have to admit, that I have only rarely exhibited her. 
 Here is an extract of the judge Quartisch-Fricke's report:
"2 years, blue-gray coating, scissors bite, canini correct, an especially beautiful representative of its pedigree. She is very close to the ideal standard and almost perfect. Her noble anatomy has to be especially emphasized, as well as her beautiful head. It is very sad that this extremely beautiful dog is restricted in her movement, after having broken her right foreleg. When walking, she throws this foreleg sideways. Apart from this fact the way she walks is absolutely typical for this pedigree but in order to achieve an excellent valuation her movement would have to be more harmonically. For this reason the dog can only be given  a V1 without contention.  But without her handicap, the dog would  be best of breed"
 Achievements:
Happy and good humored temperament
Excellent mother, raises her own as well as strange puppies very well
Three breeds:G, I and K
Personal body guard to her mistress. If required, protects her mistress form being bothered by strangers. (weight:3 kg, as fast as a mamba and has teeth just like a  piranha)
Even though handicapped she achieved the 1 CAC.
On this occasion, I would especially like to thank Mrs Schultze being so brave and using her dog expertise in order to reward Sissi the 1 CAC, besides the problems to judge the dogs walk.