Rufname: Fairy
Titel und Erfolge:
Deutscher Champion
Deutscher VDH Champion
Deutscher Coursingchampion
Show:Europasieger 2001
Show:Europasieger 2002
Windspiel JAS 2000 Jugend bester Rüde
Windspiel JAS 2001 BOB
Windspiel JAS 2002 BOB
Windspiel JAS 2003 bester Rüde BOS
Windspiel JAS 2007 bester Rüde BOS
(und Veteranen BOB)
Bundessieger 2001
Bundessieger 2002 BOB, BIG, BIS 2.Platz
DWZRV Sieger 2001
DWZRV Sieger 2002
DWZRV Sieger 2003
Landessieger Nordbayern 2001
Landessieger Rheinland 2001
Hessen-Thüringen-Cup 2000 Jugend
Hessen-Thüringen-Cup 2001
Gewinner Ausstellungstopliste Rüden 2001
Gewinner Ausstellungstopliste Rüden 2002
Gewinner Ausstellungstopliste Rüden 2003
Verbandssieger 2001
Verbandssieger 2002
Winner Donaueschingen 2003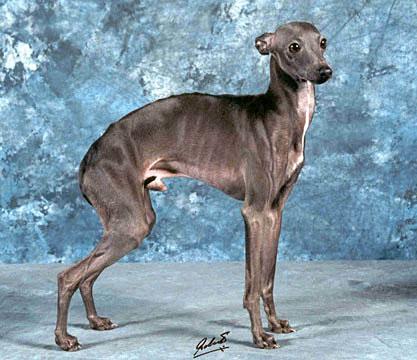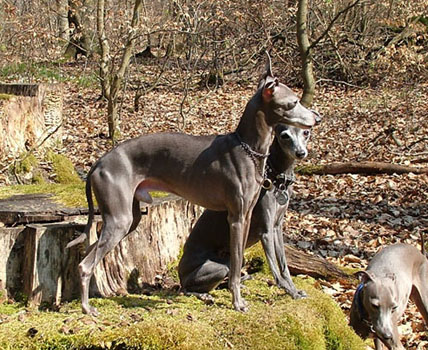 Dob:    25 may 1999
Sex:     male
Size:    36,5 cm
Bite:    full, correct scissor bite
Health: Patella free, certified 2006
Litters: H-Litter 1,2, M-litter 2,1, Q-litter 1,1, Z-litter 1,1
—english text on page bottom—
Fairy ist wie der Name sagt, schön wie ein Märchen und der Beweis dafür, daß man manchmal auch etwas Glück braucht. Als er klein war, war mir zwar klar, daß er ein schöner Windspielrüde werden würde, jedoch erlaubten mir meine damaligen persönlichen Verhältnisse nicht, einen weiteren Rüden neben Dragon Heart zu behalten. Jedoch wollte keiner den armen kleinen Fairy haben und so blieb er schließlich und entwickelte sich zum schönsten Rüden, den ich bislang gezüchtet habe. Er ist zwar ein schlaues Kerlchen, hat aber beim Gassigehen nur Flausen und Unfug im Kopf, weil ihm Frauchen/Herrchen viel zu langsam gehen. Dabei ist er ein lebendiger, verspielter, ganz lieber und sehr anschmiegsamer Hund, der sonst stets danach trachtet, Herrchen oder Frauchen zu gefallen, um geschmust zu werden.
Im Ring jedoch ist er ein absoluter Profi, tanzt durch den Ring wie ein Elfenkönig (Rufname Fairy="Elfe)" und bezaubert die Richter. Seine Erfolge seit 3 Jahren sind wahrhaft erstaunlich und haben ihn an die Spitze der Windspiel-Rüden Ausstellungsrangliste 2001 und 2002 katapultiert. Professionell beherrscht er inzwischen auch das Deckgeschäft und bekommt beneidenswerterweise gelegentlich Windspieldamen zugeführt.
Ebenfalls aktiv ist Fairy auf der Rennbahn und beim Coursing. Er ist zwar nicht gerade langsam auf der Rennbahn, aber nicht immer voll konzentriert dabei. Es ist halt viel schöner, die Mitläufer durch Anrempeln zum Spielen aufzufordern (Derby Hamburg 2001) oder zu stolpern, sich spektakulär zu überschlagen und dann leicht desorientiert das Rennen abzubrechen… (Europameisterschaft Lostallo 2001). Beim Coursing dagegen trumpft Fairy auf und erzielte 2001 Top-Wertungen. Immer besser als sein schnellerer Bruder Dark Legend's Dragon Heart bewies er damit, daß er in freier Wildbahn doch seinen Verstand einsetzen kann, wenn er will und wurde 2003 deutscher Coursingchampion.
2007 wurde Fairy nach langer Pause nochmals auf der Windspiel JAS ausgestellt und konnte noch einmal zur Hochform auflaufen; er wurde Veteranen BOB und bester Rüde insgesamt.
Ch. Dark Legend's Fairytale 
You can guess from his name, Fairy is as beautiful as a Fairytale. He also is the prove that sometimes one needs some luck. When he was a puppy, I already could tell that he was going to become a handsome Italian Greyhound. Unfortunately, at that time, I was not able to have another male dog, besides Dragonheart. I tried, without being successful, to find someone who would like to have poor little Fairy. Well, in the end he stayed with me, and became the most hansom dog I'd ever bread until than. He is an intelligent little fellow, but he is always good for a surprise when going for walkies, especially because he considers us to be too slow. Normally he is a lively, playful and well behaved dog, always wanting to please his master or mistress, in order to be petted.
When he is at a show, he behaves absolutely professional. He moves through the ring, fairylike (we call him Fairy), and convinces every judge. The success he had in the last two years is astonishing. He is in a top position at the Italian Greyhound display table 2001,  2002, 2003. He is also professionally active in the breeding  business, so that from time to time he is visited by nice greyhound-ladies. Besides all this Fairy also achieved some success in racing and coursing. When running, he is fast but not always fully concentrated. Well, its such a fun, to invite the other dogs to play with him, by slightly bumping into them (this happened at the Hamburg Derby 2001), or to trip, somersault and  to stop racing, a little disorientedly (this happened at the European Championship 2001, in Lostallo). At coursing, on the other hand, Fairy was brilliant and got the highest scoring in 2001. Always in front of his fast brother Dragonheart, he proves to be able to use his senses, whenever he decides to do so.
 Titles:
German Champion
German Coursingchampion
Italian Greyhound JAS 2000 youth best male dog
European Champion 2001 + 2002  
Bundessieger 2001 + 2002 (all state champion, in 2002 also BOB,  BIG, BIS 2.nd)
DWZRV – Champion 2001 + 2002
LS Nordbayern + Rheinland 2001 (state champion Northern Bavaria + Rhineland)
Hessen-Thuringia-Cup 2000 youth 
Hessen-Thuringia-Cup 2001
Verbandssieger 2001+2002
National IG show 2001, 2002 BOB, 2003
Has won the Auststellungstopliste Rüden 2001 + 2002 +2003  (top list for malt dog exhibitions)