Rufname: Tosca
Titel und Erfolge:
Deutscher Champion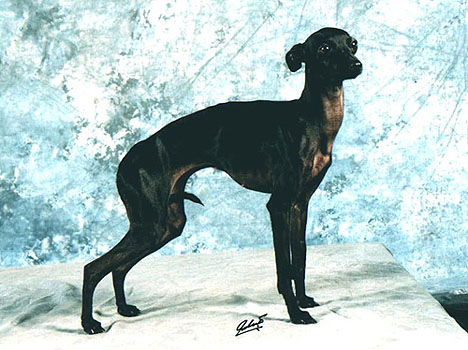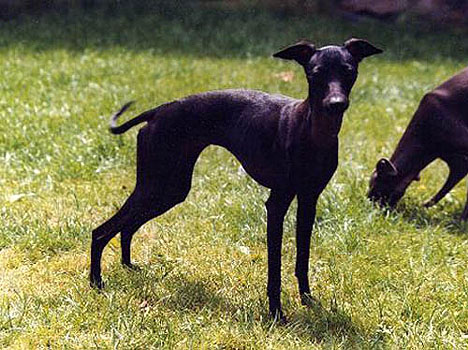 Dob:    18.08.1998                                                                      Pedigree
Sex:     female
Size:    34 cm
Bite:    full, correct scissor bite
Health: —
Litters: H-litter 1,2
—english text on page bottom—
Tosca ist unser Hungerhaken und die schwedische "Prinzessin auf der Erbse", ich habe sie vom Zwinger "Sobers" aus Schweden erworben. Obwohl sie seit ihrem ersten Wurf (1,2 H-Wurf:Dark Legend's Helios, Hasta La Vista, Heureka, Vater:Dark Legend's Fairytale) besser frißt, bekommt sie dennoch niemals Speck auf die Rippen. Sie ist ein Herz und eine Seele mit Fairytale, ebenso wie dieser verspielt und hat darüber hinaus ein sehr anhängliches und freundliches offenherziges Wesen auch Fremden gegenüber. Sie will ständig im Mittelpunkt stehen und gestreichelt werden. Erdreistet man sich, einen anderen Hund zu bevorzugen, protestiert sie sofort, drängt sich dazwischen und beknabbert einen mit leise jammernden Tönen, was ihr den Namen "Babbellutscher" eingebracht hat. Das diese Strategie innerhalb des Rudels durchaus zum Erfolg führen kann, konnten wir mit Erstaunen feststellen, Tosca ist in der Reihenfolge des Rudels an zweite Stelle aufgestiegen und stellt sich teilweise einfach stur, wenn die Alfa-Hündin Scilla sie zurechtweist.
Trotz ihrer außergewöhnlichen Schönheit, ist Tosca bei Ausstellungen im wesentlichen die ewige Zweite, denn sobald etwas von ihr gefordert wird (wie z.B. schön im Kreis herumtraben), klappte sie zusammen wie ein aus Wackelpudding bestehendes Schweizer Taschenmesser. Seit ihrem ersten Wurf hat sich das jedoch erheblich gebessert. Leider mußte Tosca im Herbst 2002 nach einer Erkrankung sterilisiert werden und steht nicht mehr für die Zucht zur Verfügung. Sie hat aber im Frühjahr 2002 noch den Deutschen Champion geschafft !
Sobers Edessa
Tosca is our skinny-girl and just like the "Princes and the pea". I  bought her from the kennel "Sobers" in Sweden. Even though she eats more, after her first bread (1,2 H bread:Dark Legend's Helios, Hasta La Vista, Heureka; father:Dark Legend's Fairytale), she still does not gain any weight. She is best friends with Fairytale and is as playful as him. Furthermore she is a very devoted dog. She is a friendly dog, that is open-hearted to strangers. Tosca loves to be the center of attention and asks for a lot of petting. If someone dares to pay more attention to one of our other dogs, she immediately protests, pushes herself into a good position and nibbles at us making sad noises. This nibbling-behavior made us nick-name her "Babbellutscher" (this is hesse and means as much as nibbles faces). Surprisingly her strategy is very successful, she is the pack's second leader. Sometimes she even does not listen, when Scilla, our alpha dog reprimands her. 
Even though she is a real beauty, she always makes the second place on exhibitions. Why? Well… Whenever she is supposed to perform (e.g. gracefully walk around in a circle), she seems to have jelly-bones and she tumbles. I have to admit, that this has improved since she had had her first breed. After an illness in 2002 she  had to be sterilized, so that Tosca is not available for breeding anymore. In spring 2002, before her illness, she won  the German Champion.