Rufname:  Dragon
Titel und Erfolge:
Weltrennsieger 2001
Europarennsieger 2001
Vizeweltrennsieger 2002
Verbandsrennsieger 2001
Gewinner deutsches Derby 2001
Landessieger Jugend Rheinland-Pfalz 1999
Gewinner Hessen-Thüringen Cup 1999 + 2000
Landessieger Bayern 2000
Deutscher Champion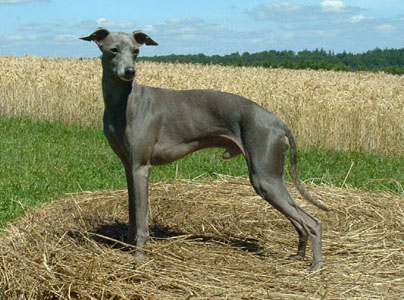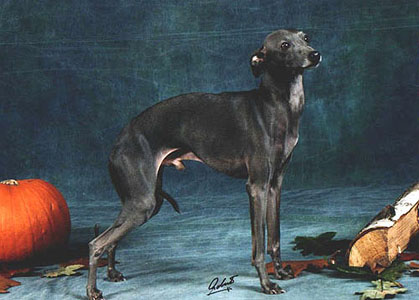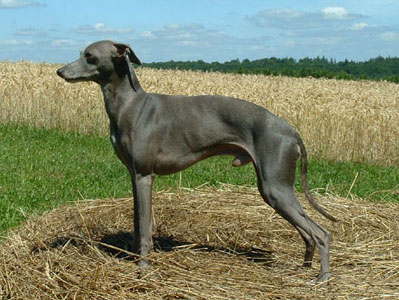 Dob:    15 may 1998                                                                     Pedigree
Sex:    male
Size:    37,6 cm
Bite:    full, correct scissor bite, one P2 missing left lower jar
Health: Patella free, certified 2006
Litters: Dark Legend's R-litter 1,3
—english text on page bottom—
Das Bild mit Dragon und der Kürbisdekoration zeigt unseren Drachen übrigends nach der Rennsaison 2001 – ein richtiger Muskelprotz. Jetzt nach dem Winter 2001/2002 sieht er wieder etwas eleganter aus, da er sich mit Diätfutter durchbeißen mußte.
Dragon ist unser lachender Held und Ritter, er ist genau wie der Drache im Film. Zu Hause bei seine Liebsten, ist er der mildeste bravste, anschmiegsamste und liebste Bub der Welt.
Aber auf Rennbahn steht seinen Drachenherz in Feuer und Flammen und er ist nicht mehr zu stoppen! Seine Leistung 2001 spricht für sich! Das erstaunliche dabei ist, daß er ein hundertprozentiger "Wide Runner" ist. Er hat also eigentlich den schlechtesten Ausgangspunkt, hat aber bisher seine Rennen trotzdem ganz überlegen gewonnen! Veni vedi vici! Dabei war es Anfangs gar nicht so klar, daß er so ein Potential hat, wir waren selber positiv überrascht.
Seine große Liebe ist eine rothaarige Afrikanerin (Rhodesian Ridgeback), Namens "Ronja" der er nicht von der Seite weicht und sie eifersüchtig gegen den Rüdenpöbel draußen bewacht.
Dragon hat eine ganz besonderes charmante Art sich zu durchsetzen. Wenn er gerne etwas möchte, lacht er einen ganz groß an. Kein Witz! Er lacht! Er grinst uns an und bleckt dabei seine Vorderzähne; es sieht ungefähr so aus wie die grinsende Katze in "Alice in Wunderland". Mit seinem Lachen bringt er uns andere auch zum "Tränenlachen" und er kriegt natürlich seine Wille in den meisten Fällen durch!!! Er ist der "Little big Man" (Ein Film mit Dustin Hoffman), ein richtiger "Kleiner Mann mit großen Geist".
Ch. Dark Legend's Dragon Heart
The picture above (Dragon and the pumpkin) shows Dragon after the race season 2001- he's a bundle of muscles. Now, at the end of the winter 2001/2002, he looks more elegant, after having to live on a diet.
 Dragon is our laughing hero and knight. He is exactly like the dragon in the movie. At home, he is the best behaved and nicest boy in the whole world.
On the racetrack his dragon heart is set on fire and there is nothing that would stop him. His achievement in the race season 2001 is an excellent example. The fact that he is a total Wide Runner is especially astonishing. Even though he often had the worst starting point, he has won his races in a superior manner. Veni, vidi, vici! His victories really surprised us, since his potentials did not show right from the beginning.
The love of his live is a red-haired African girl (a Rhodesian Ridgeback) called Ronja. He always stays close to her and jealously protects her against foreign dogs.
 Dragon is especially charming, when it comes to getting his ways. Whenever he wants something, he gently smiles. No kidding, he really smiles. He smiles at us and shows his front teeth. In doing so he looks like the cat in "Alice in Wonderland". When you look at his smile, you can't help and laugh out loud. In doing so he mostly gets what he wants. He is a "Little big Man" (a movie with Dustin Hoffman), a real character.
 Titles:
German Champion
Racing World Champion 2001, 2nd  in 2002
Association Race Champion 2001
LS Jugend Rheinland 1999 (state Champion youth Rhineland)
Champion Hesse-Thuringia CUP 1999 + 2000
European Racing Champion 2001
LS Bayern 2000 (state champion in Bavaria 2000)
Champion German Derby 2001